Mobile Mechanic Pros of Hawthorne, CA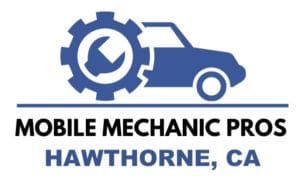 The car mechanic experts of Mobile Mechanic Pros of Hawthorne have been in business since 2015 to fix vehicles in Los Angeles County. Not only do we provide excellent car repair services at a very affordable cost, but you don't even have to take your car to an auto repair shop: our mobile mechanics near Hawthorne, CA come to you and perform the requested repair job at your address. So it is no surprise that our customers keep recommending us to their family and friends, because we take the shop to you! You just have to reach out to us, le tus know what symptoms you see on your car and one of our certified mechanics will be with you in no time.
The main advantage of Mobile Mechanic Pros of Hawthorne's automobile repair services near Los Angeles is that our mobile mechanics are carrying it out on-site, so we are able to fix your automobile at your home or next to your office as you're taking care of other things. Obviously, our clients prefer this, because it is simply a whole lot more convenient for almost all of them when compared with taking their vehicle to an auto repair shop when the time comes.
Mobile Mechanic Pros of Hawthorne's on-site car mechanic services:
– Car battery
– Car radiator replacement
– Control arm replacement
– No start situation diagnostics
– Pre-purchase vehicle inspection
– Brake repair
– Spark plugs and ignition coil replacement
– Serpentine belt replacement
– Engine oil and filter replacement
– Car Alternator replacement
– Starter motor replacement
– Fuel & water tank repair
– Check engine light diagnostics
– And more…
We couldn't mention all the car repair tasks our mobile mechanics can perform either at your house or – if it suits you better – at our garage near Hawthorne, CA, so in case you're wondering if we provide a specific sort of auto mechanic service, please just give us a phone call and our colleague will let you know, while also providing the  quote so you can decide if you want to reserve a repair appointment with one of our auto mechanics straight away.
It's definitely not the most enjoyable scenario if you need a  car repair service out of the blue, and that's the reason why our mechanics will be there with you to provide you with the most professional assistance, honest communication and an excellent mobile mechanic service in general. Our flexible schedule allows our mobile mechanics to go onsite at the shortest possible time, since our colleagues understand that if you will need a mobile mechanic, you want him fast!
Local auto repair services in Hawthorne, CA
Our mechanics know that the price of a normal car repair job can be quite high, so we at Mobile Mechanic Pros Hawthorne made it our most important goal to keep our costs low compared to other auto repair shops, buta t the same time maintaining very substantial standards concerning the expected quality our auto repair experts offer. That is one of the main reasons why many of our clients aren't even hesitating if they need a  mechanic, but they give us a call straight away.
Even if you are not completely certain about what is causing troubles with your car, just give us a phone call, because we are well equipped to execute the thorough car diagnostics to identify what sort of mobile auto repair service you need. In our experience there are so many scenarios when clients are guessing that there's something malfunctioning with a single element of their automobile, while in fact it's something entirely different. Our car mechanics will always make sure we're  offering you the right sort of auto repair solution so you will be right back on the roads in virtually no time.
Mobile Mechanic Pros of Hawthorne, CA
Find out more about our mobile mechanic company
Mobile Mechanic Pros of Hawthorne
11505 S Inglewood Ave, Hawthorne, CA 90250
(310) 905-5084
Local ZIP codes our mobile mechanics can serve:
90304, 90251, 90250, 90303, 90301, 90311, 90309, 90306, 90307, 90308, 90310, 90312, 90305, 90261, 90245, 90045, 90302, 90260, 90249, 90047, 90266, 90267, 90506, 90043, 90278, 90044, 90247, 90504, 90056, 90094, 90293, 90296, 90230, 90254, 90061, 90008, 90003, 90248, 90295, 90292, 90062
City facts about Hawthorne, CA
The city of Hawthorne, CA is located just south of Los Angeles in the region called South Bay. The estimated population of the city is 85,000 based on the last census from 2019. The city was founded in the early 20th century in 1905 and in 2021 there were almost 30,000 housing units in the area. The Los Angeles International Airport is just a 3 minutes drive away to the northwest from Hawthorne. For people who like to be in the nature, the Hawthorne Memorial Park is an excellent spot to discover, while Eureka! restaurant can be considered the perfect place for a dinner with visiting family members. The neighbors of Hawthorne are Inglewood to the north, Torrance to the south, Gardena to southeast and Manhattan Beach to the southwest. It is a popular place to live for people working in LA, because the city center is just a 20 minutes drive from Hawthorne. The most important roads of the city are the Interstate 405 and the Interstate 105. Hawthorne is also a popular destination for tourists, because the Pacific Ocean is just a few miles away, which gives an excellent opportunity for beach activities.
GET A FREE INSTANT QUOTE
We are happy to provide you with an online quote on any mobile mechanic service you need. Just fill out the details and if you like the price, we can arrange the appointment straight away!